TRUE HEROES FILMS INTRODUCTION
True Heroes Films (THF) is a Geneva-based media organisation with a global reach. Through filmmaking and digital storytelling we spread knowledge of human rights and support human rights defenders by raising their visibility. We collaborate with human rights defenders, human rights and humanitarian organisations, NGOs, UN agencies, international media outlets and broadcasters, cultural and academic institutions and governmental authorities to adapt their work into stories.
Who are "True Heroes"? All those who stand up for human rights and struggle to ensure dignity for all in the face of injustice.
A SELECTION OF OUR CURRENT PROJECTS
THF AT HRD SUMMIT
True Heroes Films is happy to inform that we will participate at the Human Rights Defenders World Summit next week in Paris, 29-31 October 2018. It is a unique opportunity to have the voice of so many Human Rights Defenders and our team of filmmakers will be there to record this important event, including individual in depth interviews. We are thrilled and look forward to making the best of the occasion in terms of increased visibility for individual HRDs as well as the conference as a whole.
For more information and requests please contact our team leader Hans Thoolen, thoolen at trueheroesfilms.org.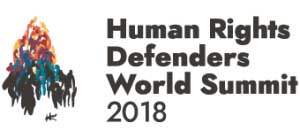 With the goal of creating a Hall of Fame of prominent human rights defenders, we launched in 2017 the first phase of the Digest of Human Rights Awards. The second phase is the Digest of Laureates of these awards to be realised in 2018. This platform helps to support, protect and promote Human Rights Defenders.
70 YEARS UNIVERSAL DECLARATION OF HUMAN RIGHTS
In collaboration with the UN we produce a series of films on the 30 articles of the Universal Declaration on Human Rights, celebrating it's 70th anniversary. Around the globe we film the stories of its impact on people's daily lives.